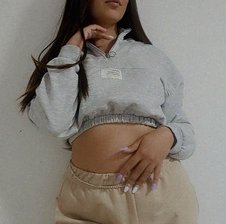 OliviaHouston
Folgen 
Hinweis, wenn online
Dieses Model ist
Online
Offline
18, Krebs, Bulgaria, Sofia
Letzte Anmeldung:
19.11.22 21:23:53
Wichtige Daten von
OliviaHouston
| | |
| --- | --- |
| Geschlecht | Frau |
| Sexuelle Vorliebe | Hetero |
| Alter | 18 |
| Größe | 160cm - 170cm |
| Gewicht | 45 - 55 kg |
| Haare | Brünett |
| Augen | Braun |
| Volkszugehörigkeit | Weiß/Kaukasisch |
| Sprachen | Englisch |
| Heimatort | Sofia |
| Intimbereich | rasiert |
| Brüste | Klein |
| Hintern | Groß |
❤️ I believe that i am different and that i will find a way to make it worth your while spending time with me,if you only let me. Your support and love makes my dreams come true,and for this ...
❤️ I THANK YOU! ❤️
❤️ I am an extremely passionate and sensual person,full of mystery,desire and lots of fun.
I love exploring my sensuality and chatting with nice people here.
I am a very open and permissive person,who loves being in front of the webcam and going crazy with my body and my best show! ❤️
Hello,my name it is Olivia! Nice to meet you!
I am really happy to have you here beside me. I love to meet always new peoples,because i am an open mind person,very friendly and playfull. I will love to have some nice and fun time together and why not maybe to become friends too. I am here to make all your fantasies to come true,to discover all your satisfy and mine too in your company.
I am always ready to have fun,always feel free to say Hi and start a nice an love lovely conversation with me.
I am very friendly ,i love to make jokes.
You will find me here mostly everyday ,if u miss me?
If you want know me better and to tell me about yourself too,invite me in a private conversation,i am sure,we both will love it.
Please follow me and be nice ❤

An ordinary "girl next door" who is very curious about life, loves sex and want's to develop more sexually. Fitness and spiritual junkie. Both partygirl and a girl who loves spending time at home. Single, yes.

Soon, i have four degrees in different topics. I love to study and i love to read. See myself as a smart girl, kind, but at the same time very straight forward. I don't take **** from anyone. I demand the same respect as i give other people.

When it comes to sex, i'm a vanilla girl with a dirty mind who loves to try new things in bed.


Camming is a big part of my life and i won't go anywhere in a long while. There is so much stuff we haven´t done yet.

I started as a cam girl 28th of april 2022 and on Cams 8th of July 2021. Been hooked since then and i absolutely love camming. The best thing about camming is all of you, my viewers, who i can interact with and have fun with.

I have a lot of different toys and outfits. Feel free to come with your wishes of new toys and outfits.

Love being dominated in bed but on cam, my rules.

MOST ASKED QUESTIONS

Q: Are your boobs real?
A: No they're fake. Love them.

Q: Do you have a boyfriend?
A: No, i'm single. I don't wan't a boyfriend.

Q: Which dick-size is the best?
A: The best dick-size is, know how to use it. Really, the size doesn't matter.

Q: How tall are you?
A: I'm 160 centimeters tall.

Q: Where do you live?
A: Earth. And that's all you need to know.

Q: Boob-size?
A: F65 or H60.

Q: Did you have a threesome?
A: Yes, a few times. Two guys.

Q: Favourite position?
A: Scissors or from behind, standing up.

RULES IN MY ROOM
❌ Respect me and other users.
❌ Don't meet IRL.
❌ Don't demand me.
❌ Don't beg.
❌ No spam in my room.
❌ Discounts? No.
❌ Don't ask where I'm from or where i live.
❌ Don't talk to me like i'm stupid.
❌ Good vibes only.
❌ Dirty talk in tipnotes.
❌ Don't promote other models.


SNAPCHAT
- Chat with me.
- Send pics to me (love dicks)
- Storys everyday (or at least i try to)

In my storys you will see nude pics and clips, shot from everyday life, pre and aftershow clips and you get too see all the new toys and outfits before everybody else.

But i don't send you nudes exclusively.

❌ STRICTLY FORBIDDEN TO SCREENSHOT, SAVE OR FORWARDING MY STORYS AND OTHER PICS/VIDEOS YOU MIGHT RECEIVE.

If i see you do that, immediate ban of friendship!!


FANCLUB
Here i upload videos that are similar to what i do in my livehows. Pictures will be nudes and underwear.

My ambition is to upload a couple of videos every month.Here you will find all content from Fanclub plus content i don´t upload on any other platform. Content will therefore be a mix of romantic/sexy and naughty/dirty. I will also treat this platform like any other social media and upload free pictures and videos, that does not contain nudity.
RUDE GUYS !
Was ich vor der Webcam mache
Arbeitszeit von OliviaHouston